~~~~~~~~~~~~~~~~~~~~~~~~~~~~~~~~~~~~~~~~~~~~~~~~~
The weather outside is::::

Cold! Very cold! At one point it was only 6F.

It is supposed to warm up within the next few days to 30F and snow. Laken is hoping for some good sled-riding snow :)

Smart Ones Canadian Ham, Egg and Cheese Muffin

As I look around the house::::
I see a sick husband who has to work seven 10-hour days this week. I'll be doing a bit of pampering.

On today's to do list::::

"31 Verses" - Verse 2.
Exercise.
Bible reading.
Crochet
Happening this week::::
Monday
....Pamper a sick husband, "31 Verses"
Tu
esday
... Clean, laundry, Harvester's Meeting, Cheer.
Wednesday
... Menu and Grocery List, Schedule for next week.
Thursday
.....Bills, Groceries, Cheer practice.
Friday
....No School, Laundry.
Sa
turday
....Weight Watchers Meeting.
Currently reading::::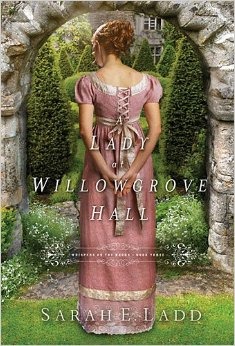 "A Lady at Willowgrove Hall" is the 3rd book in the "Whispers on the Moors" series by Sarah E. Ladd. I've read both of the first two books and was really excited to see this book at Ollie's for $1.99! Score :)
On the TV::::
BFG and Star Trek
Be watching for a review of BFG soon!
On the Radio:::
This week for Songs on Sunday, I featured
"Dear Younger Me
" by MercyMe.
On the menu this week::::
Monday
- Smothered Crockpot Chicken, Peas, grapes
Tuesday
- Deer Steak, Sweet Rice, Green Beans, apples
Wednesday
- Turkey, Stuffing, Broccoli, Peaches
Thursday
- Pork Chops, Mashed potatoes, corn, apples
Friday
- Pizza
Saturday
- Oatmeal, Toast
Sunday
- Dinner at Church
What I am creating at the moment::::
I was really excited to start the 2017 BAMCAL, a Ravelry Group.
The first block for January 2017 was the Moody Blues, a free 12" block by Helen Shrimpton.
I learned two new stitches with this block. Bead Stick and Crossed Triple Crochet. I was so excited that I was able to master both!
I also started a Cosy Stripe Afghan by Attic24 in Moorland inspired colors. More on that at a later date :)
Prayers, Inspirational Quotes or Devotionals::::
"He put a new song in my mouth, a song of praise to our God;
Many will see and fear
And will trust in the

Lord

."
Psalm 40:3
(NASB)
~~~~~~~~~~~~~~~~~~
Linking up to :
What Are You Reading
,
Yarn Fanatic
,
Art of Homemaking
,
Make Your Home Sing
,
Good Morning Monday
,
Menu Plan Monday
,
The Creative Gallery,
Tuesday Pin-spiration
,
Yarn Along
,
Keep Calm Craft On
,
Linky Ladies
,
Pieces by Polly
,
Homemaking Linkup
,
Homesteader Hop
.