Stacking The Shelves is all about sharing the books you are adding to your shelves, may it be physical or virtual. This means you can include books you buy in physical store or online, books you borrow from friends or the library, review books, gifts and of course ebooks!
~~~~~~~~~~~~~~~~~~~~~~~~~~~~~~~~~~~~~~~~~~~~~~~~
This week I added the following to my shelf:
An unlikely spy discovers freedom and love in the midst of the American Revolution.

As the British and Continental armies wage war in 1781, the daughter of a wealthy Virginia plantation owner feels conflict raging in her own heart. Lydia Caswell comes from a family of staunch Loyalists, but she wavers in her allegiance to the Crown.

On the night the British sail up the James River on a mission to destroy the new capital, Lydia discovers a wounded man on the riverbank near Caswell Hall. Fearing his identity but unwilling to leave him for dead, she secretly nurses him back to health. The man identifies himself as Nathan, a Patriot—and an enemy. But Lydia's American sympathies grow, and when British officers return to the plantation, Lydia must help Nathan escape.

Privy to conversation among the officers at Caswell Hall, Lydia begins delivering secret messages to the Patriots in Williamsburg. When she overhears a plot to assassinate General Washington, she must risk her life to alert Nathan before it's too late.
~~~~~~~~~~~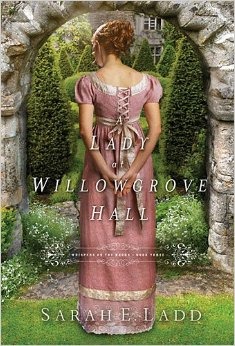 Her secret cloaks her in isolation and loneliness. His secret traps him in a life that is not his own.

Darbury, England, 1819

Cecily Faire carries the shame of her past wherever she treads, knowing one slip of the tongue could expose her disgrace. But soon after becoming a lady's companion at Willowgrove Hall, Cecily finds herself face-to-face with a man well-acquainted with the past she's desperately hidden for years.

Nathaniel Stanton has a secret of his own—one that has haunted him for years and tied him to his father's position as steward of Willowgrove Hall. To protect his family, Nathaniel dares not breathe a word of the truth. But as long as the shadow looms over him, he'll never be free to find his own way in the world. He'll never be free to fall in love.

When the secrets swirling within Willowgrove Hall come to light, Cecily and Nathaniel must confront a painful choice: Will they continue running from the past . . . or will they stand together and fight for a future without the suffocating weight of secrets long kept?
~~~~~~~~~~~~~~~~~~~~~~~~~~~~~~~~~~~~~~~

Happy Reading!