~~~~~~~~~~~~~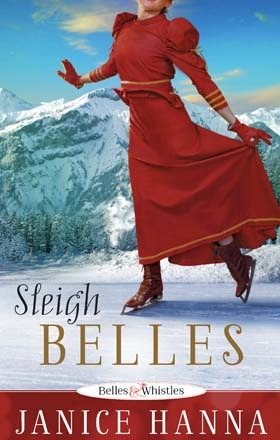 Blurb:
From Savannah to Montana... In 1916, Southern belle Alanna Lessing travels to Montana on a mission--to rescue her older sister from the influence of suffragettes and bring her back home to Savannah where she belongs. Alanna fears that her sister, Margaret, has allowed herself to be swept away by these newfangled beliefs.
The Christmas season is drawing near, and sleigh bells are ringing among the snow-covered peaks. The charming town of Missoula begins to grow on Alanna, and so do a few of its inhabitants--particularly neighboring rancher Tanner Jacobs. Alanna takes it upon herself to turn Tanner into a true Southern gentleman. He plays along, in part because he likes being near her, and in part because he's intrigued by her very different way of life. Will their differences bind their hearts, or forever keep them apart?
I've always been a fan of Janice Hanna's stories. She writes fun, historical romances and those are my favorites!
At first, I was a little bit put off by Alanna's "Southern Belle"-ness. But as the story progressed she came to realize what was important wasn't the outward appearances, but what was in the heart.
I liked Tanner from the get-go! Sigh... lol I couldn't have asked for a better hero for this story.
I really enjoyed all the descriptiveness of the Montana scenery. It truly sounds breathtaking.
I do have a pet peeve, though. The cover shows a girl skating and while they did talk about skating at one point, they didn't actually ice-skate in the novel. I strongly dislike when the cover doesn't match up with the telling of the story. Just a little pet peeve. It wasn't anything that distracted from the story or my enjoyment of reading it
Now I have to try to find the other books in the "Belles & Whistles" series!
Thanks for stopping by! Please leave a comment with a link so I can return the visit!