Stacking The Shelves is all about sharing the books you are adding to your shelves, may it be physical or virtual. This means you can include books you buy in physical store or online, books you borrow from friends or the library, review books, gifts and of course ebooks!
~~~~~~~~~~~~~~~~~~~~~~~~~~~~~~~~~~~~~~~~~~~~~~~~
This week I added the following to my shelf:
Nicole Renard returns home to Galveston, Texas, to find her father deathly ill. Though she loves him, Nicole's father has always focused on what she's not. Not male. Not married. Not able to run Renard Shipping.

Vowing to find a suitable husband to give her father the heir he desires before it's too late, Nicole sets out with the Renard family's greatest treasure as her dowry: the highly coveted Lafitte Dagger. But her father's rivals come after the dagger, forcing a change in Nicole's plans.

After a boiler explosion aboard the Louisiana nearly took his life, Darius Thornton has been a man obsessed. He will do anything to stop even one more steamship disaster. Even if it means letting a female secretary into his secluded world.

Nicole is determined not to let her odd employer scare her off with his explosive experiments, yet when respect and mutual attraction grow between them, a new fear arises. How can she acquire an heir for her father when her heart belongs to another? And when her father's rivals discover her hiding place, will she have to choose between that love and her family's legacy?
~~~~~~~~~~~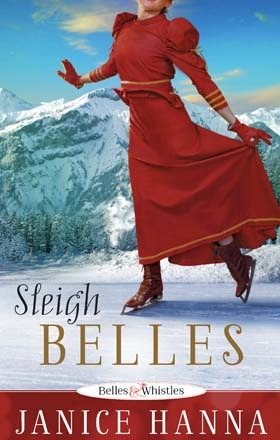 From Savannah to Montana... In 1916, Southern belle Alanna Lessing travels to Montana on a mission--to rescue her older sister from the influence of suffragettes and bring her back home to Savannah where she belongs. Alanna fears that her sister, Margaret, has allowed herself to be swept away by these newfangled beliefs.
The Christmas season is drawing near, and sleigh bells are ringing among the snow-covered peaks. The charming town of Missoula begins to grow on Alanna, and so do a few of its inhabitants--particularly neighboring rancher Tanner Jacobs. Alanna takes it upon herself to turn Tanner into a true Southern gentleman. He plays along, in part because he likes being near her, and in part because he's intrigued by her very different way of life. Will their differences bind their hearts, or forever keep them apart?
~~~~~~~~~~~~~~~~~~~~~~~~~~~~~~~~~~
P.S.
I'd love for you to join in the 2017 PenPal sign-ups here on my blog.
For more information, please click H
ERE
, the picture below or see the top right sidebar :)
~~~~~~~~~~~~~~~~~~~~~~~~~~~~~~~~~~~~~~~

Happy Reading!