~~~~~~~~~~~~~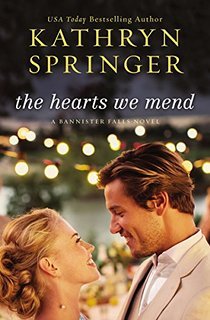 Blurb:
For young widow Evie Bennett, moving forward will mean deciding what to leave behind . . . and what to keep.

Widowed at the age of twenty-five when her firefighter husband was killed in the line of duty, Evie Bennett has spent the last thirteen years raising their son, Cody, in the close-knit community of Banister Falls. As the women's ministry director of her church, Evie encourages women to boldly pursue God's plan for their future . . . while she is content with her memories of the past. But Evie's well-ordered life begins to change when she meets Jack Vale.

As Evie gets drawn into Jack's world—a world that isn't as safe and predictable as the one she's worked so hard to create—he challenges her to open her eyes to the problems in the community . . . but will Evie open her heart to love again?
This book had such a sweet story! Sigh.....
This is the second book of the "Banister Falls" series by Kathryn Springer. I will admit it took me a chapter or two to figure who everyone was but that didn't hinder me from completely enjoying this book.
Evie was a great leading lady. I love that she is my age and is in a different season of her life than the typical 18 year old heroine.
Jack is a total mystery at first. I really enjoyed getting to know him piece by piece. There were so many aspects to his character that had to be "seen" as the story went along.
The secondary characters were equally as enjoyable as the two main characters. I would love to read more about them.
I can already say that I'll definitely be reading more of this series :)
I received this book from the publisher in exchange for my honest review
as part of a
Litfuse Publicity Blog Tour.
Linking up to:
Inspritation2
,
Creative Ways
,
Create It Thursday
,
Homemaking Linkup
, Share Your Cup; Grandma Ideas, Literacy Musings and Saturday Situation, Booknificent. Party at My Place