Stacking The Shelves is all about sharing the books you are adding to your shelves, may it be physical or virtual. This means you can include books you buy in physical store or online, books you borrow from friends or the library, review books, gifts and of course ebooks!
~~~~~~~~~~~~~~~~~~~~~~~~~~~~~~~~~~~~~~~~~~~~~~~~
This week I added the following to my shelf:
When two Jane Does are killed on the outskirts of Atlanta, Georgia, detective and behavioral specialist Avery North discovers they share something in common--a tattoo of a magnolia on their shoulders. Suspecting a serial killer, Avery joins forces with medical examiner Jackson Bryant to solve the crimes and prevent another murder. But it doesn't take long for them to realize that there is much more to the case than meets the eye. As they venture deep into a sinister world of human trafficking, Avery and Jackson are taken to the very edge of their abilities--and their hearts.
"Dangerous Passage "exposes a fully-realized and frightening world where every layer peeled back reveals more challenges ahead. Romantic suspense fans will be hooked from the start by Lisa Harris's first installment of the new Southern Crimes series
~~~~~~~~~~~
Miss Arabella Beckett has one driving passion: to help the downtrodden women of America. Naturally, she supports the women's suffrage movement and eagerly attends rallies and lectures across the country. On her travels, she makes a simple offer of assistance to a young woman in need that goes sadly awry and lands both ladies in more trouble than they can manage. An independent sort, Arabella is loath to admit she needs help and certainly doesn't need help from an arrogant, narrow-minded knight in shining armor.

Mr. Theodore Wilder, private investigator extraordinaire, is on a mission. A mission that began as a favor to his good friend Hamilton Beckett, but swiftly evolved into a merry chase across the country. By the time he finally tracks down Hamilton's sister, Arabella, he is in a less than pleasant mood. When the lady turns out to have radical ideas and a fiercely independent streak, he soon finds himself at his wit's end.

When they return home to New York, circumstances force their paths to continue to cross, but the most peculiar feelings growing between them certainly can't be love. When the trouble Arabella had accidentally stirred up seems to have followed her to New York and threatens her very life, the unlikely couple must face the possibility that they might have landed in the most peculiar circumstance of all: love.
~~~~~~~~~~~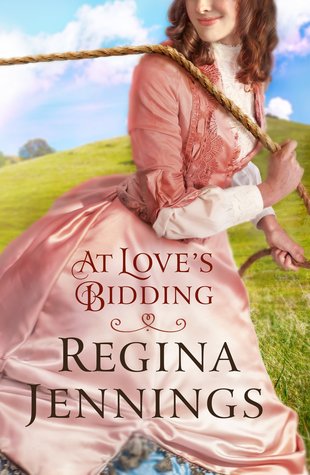 After helping her grandfather at their Boston auction house, Miranda Wimplegate discovers she's accidentally sold a powerful family's prized portrait to an anonymous bidder. Desperate to appease the furious family, her grandfather tracks it to the Missouri Ozarks and makes an outlandish offer to buy the local auction house if they promise not to sell anything until he arrives.

Upon their arrival, however, they discover their new business doesn't deal in fine antiques, but in livestock. And its manager, ruggedly handsome Wyatt Ballentine, is frustrated to discover his fussy new bosses don't know a thing about the business he's single-handedly kept afloat. Faced with more cattle than they can count--but no mysterious painting--Miranda and Wyatt form an unlikely but charged partnership to try and salvage a bad situation getting worse.
~~~~~~~~~~~~~~~~~~~~~~~~~~~~~~~~~~~~~~~
Happy Reading!