~~~~~~~~~~~~~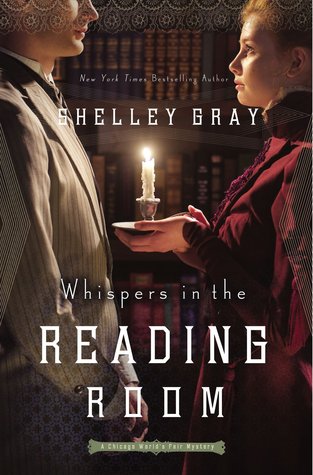 Blurb:
Lydia's job at the library is her world—until a mysterious patron catches her eye . . . and perhaps her heart.

Just months after the closure of the Chicago World's Fair, librarian Lydia Bancroft finds herself fascinated by a mysterious dark-haired and dark-eyed patron. He has never given her his name; he actually never speaks to a single person. All she knows about him is that he loves books as much as she does.

Only when he rescues her in the lobby of the Hartman Hotel does she discover that his name is Sebastian Marks. She also discovers that he lives at the top of the prestigious hotel and that most everyone in Chicago is intrigued by him.

Lydia and Sebastian form a fragile friendship, but when she discovers that Mr. Marks isn't merely a very wealthy gentleman, but also the proprietor of an infamous saloon and gambling club, she is shocked.

Lydia insists on visiting the club one fateful night and suddenly is a suspect to a murder. She must determine who she can trust, who is innocent, and if Sebastian Marks—the man so many people fear—is actually everything her heart believes him to be.
The first thing that drew me into this book was the cover. It is amazing!
After that, it was all storyline.
Sebastian Marks is a mysterious man who comes into Lydia's Reading Room. She is drawn to the fact that he loves to read a diverse collection of books. She is a book worm but sometimes seems a bit immodest about her intelligence. More than once she proclaims how intelligent she is. Lydia was also a bit naïve about the darker sides of her city and life in general.
Sebastian grew up in the darker side of the city. He knew his way around and commanded respect. He owned a bar and gambling den which is a bit out of the ordinary for a hero in a Christian based novel.
That brings me to the fact that there is very little about Christianity until the very end. It was certainly a clean read but the redemption story almost seemed like a side story instead of having any real consequence.
That being said, you may be surprised that I loved this book! The mystery, intrigue, setting and characters were all so interesting. Once I really got into the book, I didn't want to put it down.
I want to mention that this is the third book of the Chicago World Fair Mystery series but can definitely be read as a stand-alone book.
I received this book from the publisher in exchange for my honest review
as part of a
Litfuse Publicity Blog Tour.