Stacking The Shelves is all about sharing the books you are adding to your shelves, may it be physical or virtual. This means you can include books you buy in physical store or online, books you borrow from friends or the library, review books, gifts and of course ebooks!
~~~~~~~~~~~~~~~~~~~~~~~~~~~~~~~~~~~~~~~~~~~~~~~~
This week I added the following to my shelf: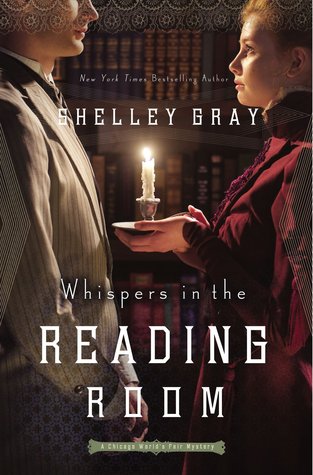 Lydia's job at the library is her world—until a mysterious patron catches her eye . . . and perhaps her heart.

Just months after the closure of the Chicago World's Fair, librarian Lydia Bancroft finds herself fascinated by a mysterious dark-haired and dark-eyed patron. He has never given her his name; he actually never speaks to a single person. All she knows about him is that he loves books as much as she does.

Only when he rescues her in the lobby of the Hartman Hotel does she discover that his name is Sebastian Marks. She also discovers that he lives at the top of the prestigious hotel and that most everyone in Chicago is intrigued by him.

Lydia and Sebastian form a fragile friendship, but when she discovers that Mr. Marks isn't merely a very wealthy gentleman, but also the proprietor of an infamous saloon and gambling club, she is shocked.

Lydia insists on visiting the club one fateful night and suddenly is a suspect to a murder. She must determine who she can trust, who is innocent, and if Sebastian Marks—the man so many people fear—is actually everything her heart believes him to be.
~~~~~~~~~~~~
A story of love, hope, and healing set in the midst of the Civil War Nineteen-year-old Carrie Ann Bell is independent and spirited. The only thing she really fears are the Union soldiers fighting against her Confederate friends. When her youngest sister runs away from home, brave Carrie Ann is determined to find her and bring her back. Disguised as a soldier, she sets off--only to find she's fallen into the hands of the enemy.

Her childhood friend Confederate Major Joshua Blevins has warned her against these Yankees: they're all devils, ready to inflict evil on unsuspecting young women. When Colonel Peyton Collier arrests her for her impersonation of an officer, it seems to confirm all her fears.

Soon, though, she finds herself drawn to the handsome, gallant colonel. He rescued her, protected her, and has been every inch the gentleman. Carrie Ann discovers that her foe has become her ally--and more than that, someone she could love. But the arrival of Joshua in the Union camp as a spy will test her loyalties. Will she protect someone who has been like family or be loyal to this stranger to whom she wants to offer her heart? When her world is being torn apart around her, whom should she trust?

Set against the backdrop of the American Civil War, A Thousand Shall Fall is framed around compelling characters and a very romantic setting in Virginia's Shenandoah Valley. Andrea Boeshaar's extensive research guarantees historical accuracy and romance genre enthusiasts and Civil War buffs alike will enjoy the Christian perspectives on actual historical events.
~~~~~~~~~~~~~~
The thrilling conclusion to the evocative Summerset Abbey series featuring two sisters and their maid as they navigate an uncertain world in the midst of World War I.Aristocratic and free-spirited sisters Rowena and Victoria, as well as their maid and dear friend Prudence navigate the uncertain social and political climate of WWI-era England in the dramatic conclusion to the sweeping saga about the women of Summerset. Vividly evoking both time and place with authentic dialogue and richly detailed settings, this beautifully written novel explores the conflict between tradition and modernity as these women struggle to determine what to expect from their futures…
~~~~~~~~~~~~~~~~~~~~~~~~~~~~~~~~~~~~~~~
Happy Reading!