Stacking The Shelves is all about sharing the books you are adding to your shelves, may it be physical or virtual. This means you can include books you buy in physical store or online, books you borrow from friends or the library, review books, gifts and of course ebooks!
~~~~~~~~~~~~~~~~~~~~~~~~~~~~~~~~~~~~~~~~~~~~~~~~
This week I added the following to my shelf: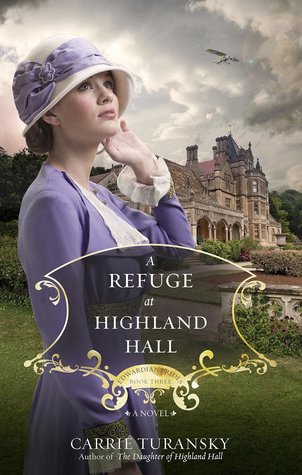 In this third and final book in the Edwardian Brides Series, you'll be swept away to England and France in 1915 as the Ramsey family and their staff and friends face the dramatic challenges and losses of World War One, yet they also experience the hope and triumph that comes as they put their trust in God to carry them through.
Penny Ramsey helps the family welcome a group of orphaned children to Highland Hall, but she soon discovers caring for them is more difficult than she'd expected. She writes to Alex Goodwin, a daring British pilot, who chases German zeppelins across the sky over the Front Line in France, and longs for the day she will see him again. You'll be delighted by two pure and heartwarming romances: Penny and Alex, and Lydia Chambers and Marius Ritter, a lady's maid and a prisoner of war. But most of all I hope you'll be inspired by the characters' examples of trusting God through the trials they face.
Fans of "Downton Abbey" will find many of the same elements in this series: A wealthy, aristocratic family living on a large English country estate with romance, conflicts, and family drama; and loyal servants with troubles and heartaches of their own.
~~~~~~~~~~~~~~~~~~
Finding himself the man of the family, London dancing master Alec Valcourt moves his mother and sister to remote Devonshire, hoping to start over. But he is stunned to learn the village matriarch has prohibited all dancing, for reasons buried deep in her past.

Alec finds an unlikely ally in the matriarch's daughter. Though he's initially wary of Julia Midwinter's reckless flirtation, he comes to realize her bold exterior disguises a vulnerable soul--and hidden sorrows of her own.

Julia is quickly attracted to the handsome dancing master--a man her mother would never approve of--but she cannot imagine why Mr. Valcourt would leave London, or why he evades questions about his past. With Alec's help, can Julia uncover old secrets and restore life to her somber village. . .and to her mother's tattered heart?

Filled with mystery and romance, The Dancing Master brings to life the intriguing profession of those who taught essential social graces for ladies and gentlemen hoping to make a "good match" in Regency England.
~~~~~~~~~~~~~~~~~~
After a tornado rips through her town, store owner Abigail comes across a piece of fabric from a wedding dress among the devastation. Abigail is moved to start collecting other swatches of fabric she finds - her neighbor's kitchen curtains, a man's necktie, a dog's bed - which she stashes in shopping bags.
As she pursues her seemingly absurd quest, horrible realities spark the question, What kind of a God would allow such tragedy As she struggles to reconcile her right to happiness amidst the destruction, Abigail begins piecing together a patchwork quilt from the salvaged fabric in hopes it will bring some peace. But a new relationship with Justin, a contractor, may require too much of her fragile heart. Will her pain and questions of faith give way to the courage to love?
~~~~~~~~~~~~~~~~~~~~~~~~~~~~~~~~~~~~~~~
Happy Reading!