Stacking The Shelves is all about sharing the books you are adding to your shelves, may it be physical or virtual. This means you can include books you buy in physical store or online, books you borrow from friends or the library, review books, gifts and of course ebooks!
~~~~~~~~~~~~~~~~~~~~~~~~~~~~~~~~~~~~~~~~~~~~~~~~
This week I added the following to my shelf:
Spunky Contemporary Romance from a Sparkling New Talent

Miranda Woodruff, star of the homebuilding show "From the Ground Up," will do anything to keep the job she loves. Due to a painful broken engagement and a faith she's mostly forgotten, she's let her entire identity become wrapped up in the Miranda everyone sees onscreen. So when she receives news that the network might cancel her program, she must do the very thing she fears most: let the spotlight shine on her closely guarded personal life. The only problem? She's been living a lie—letting viewers believe she's married—and now she's called upon to play wife to a sweet, if a bit goofy, pretend husband to boost ratings.

Desperate to help his family and prove he's not a total failure, reporter Matthew Knox is looking for a breakout story. When he's offered the opportunity to do an online serial feature on Miranda Woodruff, he jumps at the chance, even if celebrity reporting isn't really his thing. But as soon as he meets Miranda, he knows she's keeping secrets.

When Miranda's former fiance suddenly appears on the scene again, she doubts her life could get more complicated. Juggling three guys, an on-the-rocks television show, and the potential exposure of her deception is way more than she bargained for. Can the woman who makes things look so good onscreen admit it's time to tell the truth about who she is? And if she does, will the life Miranda's built come crashing down just as she's finally found a love to last?
~~~~~~~~~~~~~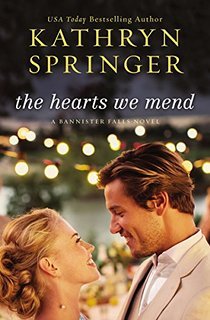 For young widow Evie Bennett, moving forward will mean deciding what to leave behind . . . and what to keep.

Widowed at the age of twenty-five when her firefighter husband was killed in the line of duty, Evie Bennett has spent the last thirteen years raising their son, Cody, in the close-knit community of Banister Falls. As the women's ministry director of her church, Evie encourages women to boldly pursue God's plan for their future . . . while she is content with her memories of the past. But Evie's well-ordered life begins to change when she meets Jack Vale.

As Evie gets drawn into Jack's world—a world that isn't as safe and predictable as the one she's worked so hard to create—he challenges her to open her eyes to the problems in the community . . . but will Evie open her heart to love again?

Because even though Jack isn't anything like her late husband, he just might be everything she needs.
~~~~~~~~~~~~~~~~~~~~~~~~~~~~~~~~~~~~~~~
Happy Reading!