~~~~~~~~~~~~~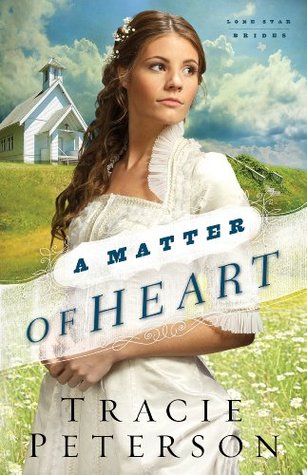 Blurb:
Texas born and raised Jessica Atherton is a wealthy young woman whose heart was broken when the man she intended to marry wedded another. But her world is upended when two men come into her life and both manage to stir her heart. Harrison Gable is a rich young lawyer who intends to travel the world and live a life of opulence. His ambitions match Jessica's dreams, but her heart has begun to change.
Austin Todd, former Secret Service agent, enjoys working now as a Texas Ranger cattle inspector. But learning of forged gold certificates and missing printing plates, he's drawn back into the world of intrigue and agrees to help solve the case. Austin is well-thought-of and admired in the community. Jessica is drawn to his kind nature and the unspoken pain she sees in his eyes.
Will Jessica choose financial security or follow her heart?
I have to say that this book was just OK for me :(
When I picked it up I thought it was the first book of the Lone Star Brides series by Tracie Peterson. It turned out to be the third book!
I've read other series out of order so I thought I'd be fine with it. I found this to not be the case for this book. There were so many characters and plots that must have carried over from the previous books of the series because there were times I was just plain confused!
Not to mention that the leading lady, Jessica, was not very likable. At all! Her character was something she was definitely working on throughout the book so that was admirable but it just wasn't enough for me to truly get into the book as I wished I could have.
I did like Austin's character, though.
This just happened to be a series that in which I feel it was probably necessary to read the books in order.
Thanks for stopping by! Please leave a comment with a link so I can return the visit!
Linking up to WholeHearted Wednesday, R&R, Word Filled Wednesday, Coffee and Conversation, Ladies Collective, Party in Your PJs, The Mommy Club, Works or Me, Wake-Up Wednesday and Women with Intention.