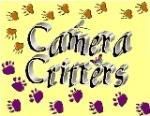 ~~~~~~~~~~~~~~~~~~~~~~~~~~~~~~~~~~
We got back from our almost-two-week vacation last night at about 12:30am. We were so excited to see the hounds and they were extremely excited to see us.
I'm sure they thought we had abandoned them forever!
Here is just a simple picture of Lilah and Jamine in the yard with the girl. It was taken a while ago.

I look forward to sharing some critter pictures we took while on vacation. Stay tuned :)
Have a wonderful Camera Critters day!