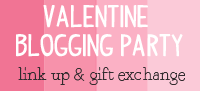 I love participating in swaps! This was a Valentine theme swap so it was really fun shopping for my partner.
I was so excited to get my package in the mail. I took it home, sat on my bed and waited a minute before opening it. I just wanted to savor the moment ;)
Then I opened the package and here is what I found:
1. Wilton's Petite Heart Pan which the girls and I will be trying out VERY soon!
2. A really cute Valentine Dish Towel that is now hanging on my oven door.
3. A Markings Premium Journal with a very pretty cover pattern. (I LOVE STATIONARY!)
Dear Julie,
I love every single item. Thank you so much!
Love,
Colletta